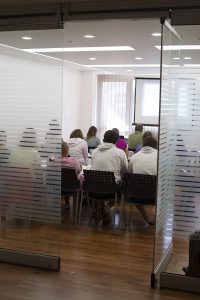 Monday 28th February, 4 hours in the classroom and Thursday 1st of  March 4 hours online via Teams
Join us on  our new Blended 2  half day Emergency First Aid at Work certified training course at our fully equipped training centre in Caerphilly.
Monday 28th February from 10:00am to 14:00pm at Britannia House
Thursday 1st March from 10:00am to 14:00pm Online via Teams
Covid-19 Update
All our equipment is carefully sterilised and each student will use individual equipment to reduce the risk of Coronavirus transmission. Training is delivered in a big seminar room on small groups for your safety. Cost £95 + VAT. Our location is 5 minutes walk from Caerphilly train station and our smart modern training facilities include an on-site cafe for breaks and lunch.
Primary Care Skills
We will teach you how to deal with life threatening conditions learning these skills: Scene Safety Assessment, Primary Assessment, Barrier Use, CPR Rescue Breathing, CPR Chest compression's, AED use, Choking, Dealing with Serious Bleeding, Spinal Injuries and Shock Management.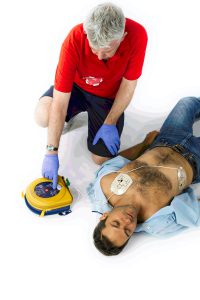 AED training
The use of an AED device is now compulsory within the recommendation of HSE EFAW first aid. CPR alone is unlikely to restart the heart of a sudden cardiac arrest victim. An AED can deliver a shock automatically to the heart when an abnormal heart rhythm is detected. Using the latest AED trainers with both visual and audio cues the student will simulate this emergency and learn how to confidently deal with a sudden cardiac arrest.
HSE recommendations
In addition, as part of the EFAW (HSE recommended) syllabus we teach the responsibilities of the appointed person such as assessment of needs in the workplace, First Aid Kits, Record Keeping (accident book) and duties of the first aider.
Secondary CARE skills
The Secondary care section of our training course deals with first aid skills such as injury assessment, illness assessment, bandaging and splinting.
The skills you learn throughout the day will be assessed for competency leading to certification at the end of the course.
Emergency First Aid at Work (EFAW) Blended Training


February 28, 2022 - March 1, 2022




10:00 am - 5:30 pm
Address:
Britannia House
, Caerphilly Business Park, Van Road,
Caerphilly
,
CF83 3GG
,
United Kingdom
Description:

Just 5 minutes walk from Caerphilly Railway Station, Caerphilly Business Park is just off Van Road. We have full training facilities for groups large or small. During week days there is also a full restaurant service available.