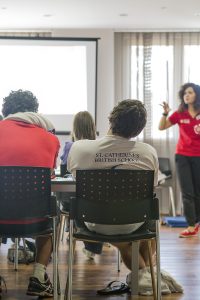 Friday 30th June 2023
This course is for Parents, Nannies, School Teachers or anyone that cares for children. This course is a fully comprehensive and certified training programme covering all aspects of emergency care for infants and children. The certification is valid as a professional certification in first aid for children.
The course is delivered in our fully equipped training centre in Caerphilly. Cost £95 + VAT. Our location is 5 minutes walk from Caerphilly train station and our smart modern training facilities include an on-site cafe for breaks and lunch.
Primary Care Skills
We will teach you how to deal with life threatening conditions learning these skills: Scene Safety Assessment, Primary Assessment, Barrier Use, CPR Rescue Breathing on infants and children, CPR Chest compression's for infants and children, AED use, Choking, Dealing with Serious Bleeding, Spinal Injuries and Shock Management.
Secondary CARE skills
The Secondary care section of our training course deals with first aid skills such as injury assessment, illness assessment, bandaging and splinting.
The skills you learn throughout the day will be assessed for competency leading to certification at the end of the course.
1 Day Paediatric First Aid


June 30, 2023




10:00 am - 5:00 pm
Address:
Cardiff business Park
, Ty Glas Industrial Estate,
Llanishen
,
Cardiff
,
CF14 5GL
,
United Kingdom
Description:

Cwrt, Lambourne Cressent
Llanishen
Cardiff CF14 5GL