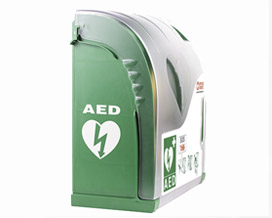 Where an AED should be placed and what do you need to do?
Have you had first aid training yet? We recommend having first aid training so that you have the skills necessary to give effective CPR and operate an AED proficiently. You can then aid people both when you are on your own and when others are around to help. You will learn how vital AEDs are and how in cases of Sudden Cardiac Arrest, they can improve the chances of survival by more than 50%.
Where is the best place for them to be?
The American Heart Association recommends there is a device every 1.5 minutes walking distance in any workplace environment. This is because even in the worst-case scenario, a lone rescuer should take no more than 3 minutes to retrieve an AED.
In a situation where a casualty has suffered cardiac arrest, it is just as important to know exactly where the nearest AED is as is the ability to be able to use it. Modern AEDs are designed to be lightweight and highly manoeuvrable so they tend to move around from office to office or end up locked away in the company's security manager's office.
Wall mounted AED cases are the answer because, amongst other things, they ensure that each AED stays put. AED cases range from basic open wall bracket shelves through to alarmed cabinets which sound an alarm whenever an AED is retrieved; thus, alerting everyone in the building that someone is suffering from heart failure and needs immediate emergency care.
By fixing AEDs to their own prominent place, it is easy for a person to perform the necessary daily AED checks as part of routine maintenance.
With clear and eye-catching signage, they are ideal as a base for a first aid station where other equipment such as a first aid kit, can be stored.
Keeping your AEDs in designated wall mounted cases will ensure that everyone will know where each one in their place of work is situated, ensuring that in the event of an emergency, any delay in retrieving an AED is kept to an absolute minimum.
At Four Minutes Ltd, we have a variety of AED units like Heartsine and many others. We also have lots of cases and accessories, to get a free consultation on what is best for your office contact us at fourminutes.training or at 02921679041 today!