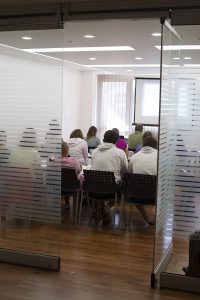 Our 1 day Oxygen Administration and Anaphylaxis training enables users to administer oxygen safely and effectively for casualties with breathing difficulties. Delegates will learn how and when to administer oxygen to a casualty and the safety concerns with carrying, storing, and administering it. The course is suitable for qualified First Aiders, Emergency First Aiders, dental practitioners and dental care professionals, nurses, healthcare professionals, and others working in an environment where oxygen is available for casualty welfare.
Immediate Management of Anaphylaxis
An Anaphylactic shock, or anaphylaxis, is a life-threatening, serious allergic reaction to an allergen such as food substances or insect stings. If it is not treated appropriately, it may cause death. The course is made up of practical and theoretical sessions delivered by our instructors.
Certification
This Level 3 emergency oxygen courses carries a certification valid for three years. To renew the qualification, learners will need to retake the full course. However, it is recommended that during the 3-year period, the learners attend annual refresher courses.
Course Syllabus
Safety Assessment
Use of protective Barriers
How the Respiratory system works
Causes of Hypoxia
Illnesses that can cause lack of Oxygen
Injuries that can cause lack of Oxygen
Administrating Oxygen (high flow and low flow)
Assembly and Disassembly of an Emergency Oxygen System
Using an Oxygen Oximeter
Using Oxygen
Demand Inhalator Valve Use for a Breathing casualty
Pocket Mask Use with Oxygen for Nonbreathing casualty
Anaphylaxis and Oxygen Use
Safety Considerations when using Emergency Oxygen Equipment
Maintaining Emergency Oxygen Equipment
Assessment
A range of methods are used, including, practical and questioning (open and multiple-choice).
Numbers
5-6 people per class
Course rate
£125+VAT per person, including student manual, all training materials and international certification.
Covid-19 Update
All our equipment is carefully sterilised and each student will use individual equipment to reduce the risk of Coronavirus transmission. Training is delivered in a big seminar room on small groups for your safety.
1 day Oxygen Administration and Anaphylaxis


December 17, 2021




10:00 am - 5:00 pm
We're sorry, but all tickets sales have ended because the event is expired.
Address:
Britannia House
,
Caerphilly
,
Vale of Glamorgan, The
,
CF83 3GG
,
United Kingdom
Description:

We are based in Caerphilly Business Park in the Welsh Ice Campus open Monday to Friday 9am – 5pm. We have a variety of training  locations from the Cwrt in Llanishen to the Lisvane & Llanishen Reservoirs Visitor Centre, Lisvane Road, Lisvane, Cardiff, CF14 0BB and the Welsh Ice centre in caerphilly to suit large or small classes and an on-site cafe will serve you lunch, refreshments and snacks during your training breaks.