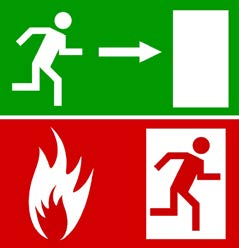 Duration – 5 hours
Time: 10am – 3pm
Cost – £95+VAT per person
Location: Caerphilly Business Park
This extremely popular one-day course provides participants with a greater awareness and understanding of the threat posed by fire, their personal responsibility in preventing an outbreak and the action to be taken should a fire occur. All delegates receive practical hands on training in fire extinguishers as well as interactive training in risk assessment and mitigation. Participants will learn how to create a company-wide evacuation plan and how to implement the plan in an emergency. This course is designed to provide the knowledge and practical experience to deal with fire threats in their own workplace and help ensure the safety of themselves and others within the organisation.
COURSE CONTENT:
 Fire legislation, facts and figures.
 Combustion principles and how fire spreads.
 Fire case study videos and discussions.
 How to spot and mitigate hazards.
 Hazard spotting practical exercise.
 Actions in the event of a fire and evacuation principles and planning.
 Fire wardens' responsibilities.
 Routine fire safety maintenance checks.
 The selection, operation and actuation of portable fire extinguishers.
 Practical fire extinguishment.
Who will benefit from this course?
This course will be of benefit to all staff, particularly those designated as
fire wardens or marshals.
It is suitable for employees working in industry, commerce or the public sector.
The Fire Protection Association (FPA) is the UK's national fire safety organisation and works to identify and draw attention to the dangers of fire and the means by which their potential for loss is kept to a minimum.
The FPA training designed to assist fire, security and safety professionals achieve and maintain the very highest standards of fire safety management. CFPA Europe is the European confederation of national fire protection organisations.